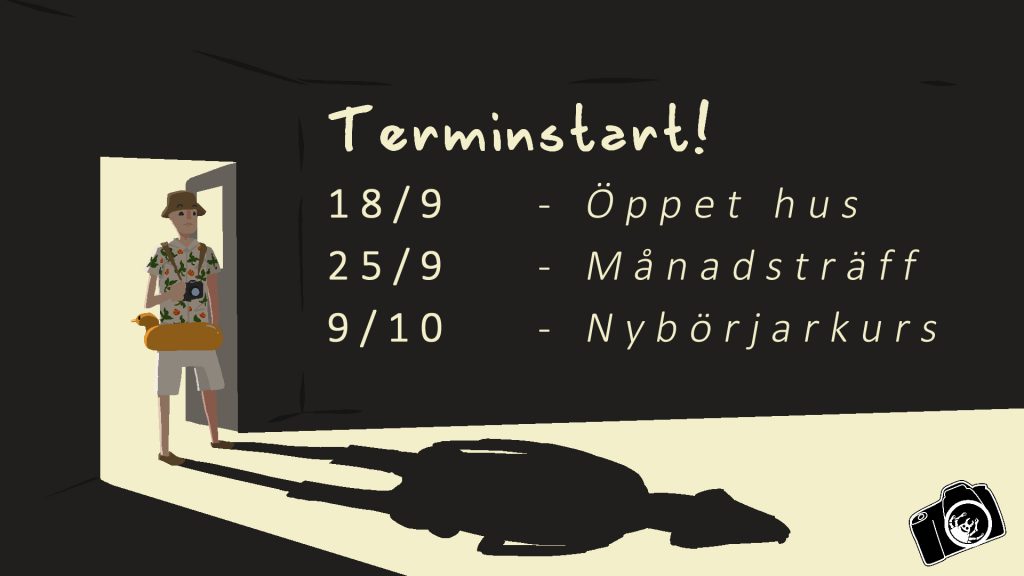 (English translation will follow below!)
Hallå!
Hoppas sommarens varma väder inte hindrat er från att dra ut och få er ett par riktigt fina bilder! Vi i styrelsen har nu själva fått landa i en vardag, och kan därför börja dra igång terminens aktiviteter!
Först ut är öppet hus, för er som är nyfikna på vad vår förening har att erbjuda!
Denna sker den 18e September kl 18:30 i föreningens fikarum (Rydsvägen 246), och pågår kvällen ut!
Näst på tur är terminens första månadsträff! Event för detta dyker upp inom de närmaste dagarna på vår Facebooksida (samt här på hemsidan!), där också kvällens fototema avslöjas!
Lite senare i Oktober så håller också linslusen en nybörjarkurs inom fotografi! Vad är egentligen slutartid, bländartal och ISO? Dessa frågor och många fler kommer att besvaras, samt att en tillhörande fotovandring ger er tillfälle att sätta era nyfunna kunskaper på prov! Även detta evenemang kommer att dyka upp inom kort!
Dessa event är också öppna för alla, medlem eller inte!
För er från Kalas som funtar på att bli medlen så är det bara att maila oss så får ni all info! Vi kommer också att ta emot medlemsanmälan på kommande evenemang!
Tills vidare så får vi hoppas er en fortsatt bra start på terminen, och för er som ska på kalas idag så syns vi där!
English version:
Hello!
We hope that the summer's warmth hasn't discouraged you from getting some good pictures! We from the board have also arrived in Linköping, and are now ready to kickstart this semester with some events!
First off, we'll host an open day, for those of you who are curious about what Linslusen does and has to offer.
This will take place September 18th, 18:30 at Rydsvägen 246, and will continue throughout the evening.
After that, well hold our first monthly meetup of this semester! We'll make a facebook event for this shortly (and make a post on this website!
), so stay tuned!
Lastly, we'll arrange a beginners course in photography! What is shutter speed, aperture and ISO exactly? This question and many more will be answered on our lecture, which will be followed by a photo walk, where you can truly put your newfound knowledge to the test! This will also get an event page soon.
Best of all: All of these events are open for the public, and not just for members!
For those of you who're interested in becoming members: Send us a mail, and we'll give you all the info neccesary! We'll also be able to register members at our upcoming events!
Until then, we hope that you have a nice start this semester, and if you're planning to go to Kalas, then we'll catch you there!
/Linslusen, via Ordförande